CircleZeroEight presents Tales of the Unexpected, a limited edition zine made in collaboration with adidas and Arsenal to commemorate the launch of their new LFSTYLR capsule collection.
AS ONE OF London's most exciting young chefs, having a strong sense of taste is everything to Lorcan Spiteri. It might just be why as a young boy – who grew up in a family of Chel- sea fans – he chose Arsenal against all the odds. Or rather, Arsenal chose him. While he was still in primary school, he and his family moved from central London to Holloway Road; prime Arsenal territory. ☞ "Before that I never really had a club team, I kind of just supported England," he said. "But then all of a sudden you're in Holloway and the whole school supports one club – from then on, Arsenal was my team."
Today, Spiteri and his brother run Caravel, one of north London's most exciting and hidden culinary gems, in the form of an intimate canal boat-turned-restaurant, moored on the  Regent's Canal, a short walk away from Islington. Despite having lived in north London his entire adult life, for Spiteri, nothing beats the buzz in the air on an Arsenal match day.  "You can feel it in the air, every- one marching down Holloway Road like an army – you just can't beat that feeling."
Recalling his early experiences going to Arsenal games as a young kid, his eyes light up as he fondly reminisces about being smuggled in through the turnstiles at Highbury, wrapped in the long coat worn by one of his dad's mates and enveloped by the camaraderie of the crowd. The nostalgia in his voice is palpable as he recounts the excitement of those moments:  "Yeah, it was banging, I'd always think to myself: 'It doesn't get any better than this.'"
"We'd all head down to Highbury walking down the hill, and we were part of this sea of people all converging on the stadium – so many of us you couldn't even see the floor." The 30-year-old says he feels blessed to have begun sup- porting Arsenal during one of the greatest times in the club's history: the Invincibles era. He grew up watching the domina- tion, elegance and free-flowing football of the likes of Dennis Bergkamp, Thierry Henry, Robert Pires, and Freddie Ljungberg,winning trophy after trophy under Arsène Wenger. ☞ "I used to love watching Henry playing on the left and cutting in time and time again, just a madness."
There's one childhood Arsenal memory in particular that will stick with him forever. "I remember I stayed behind after a game one time and got Henry's autograph, which was mad. Him, David Seaman, and Patrick Vieira all signed the back of my matchday programme. Then my mum wrote their names next to their signatures which probably fully ruined any resale value!"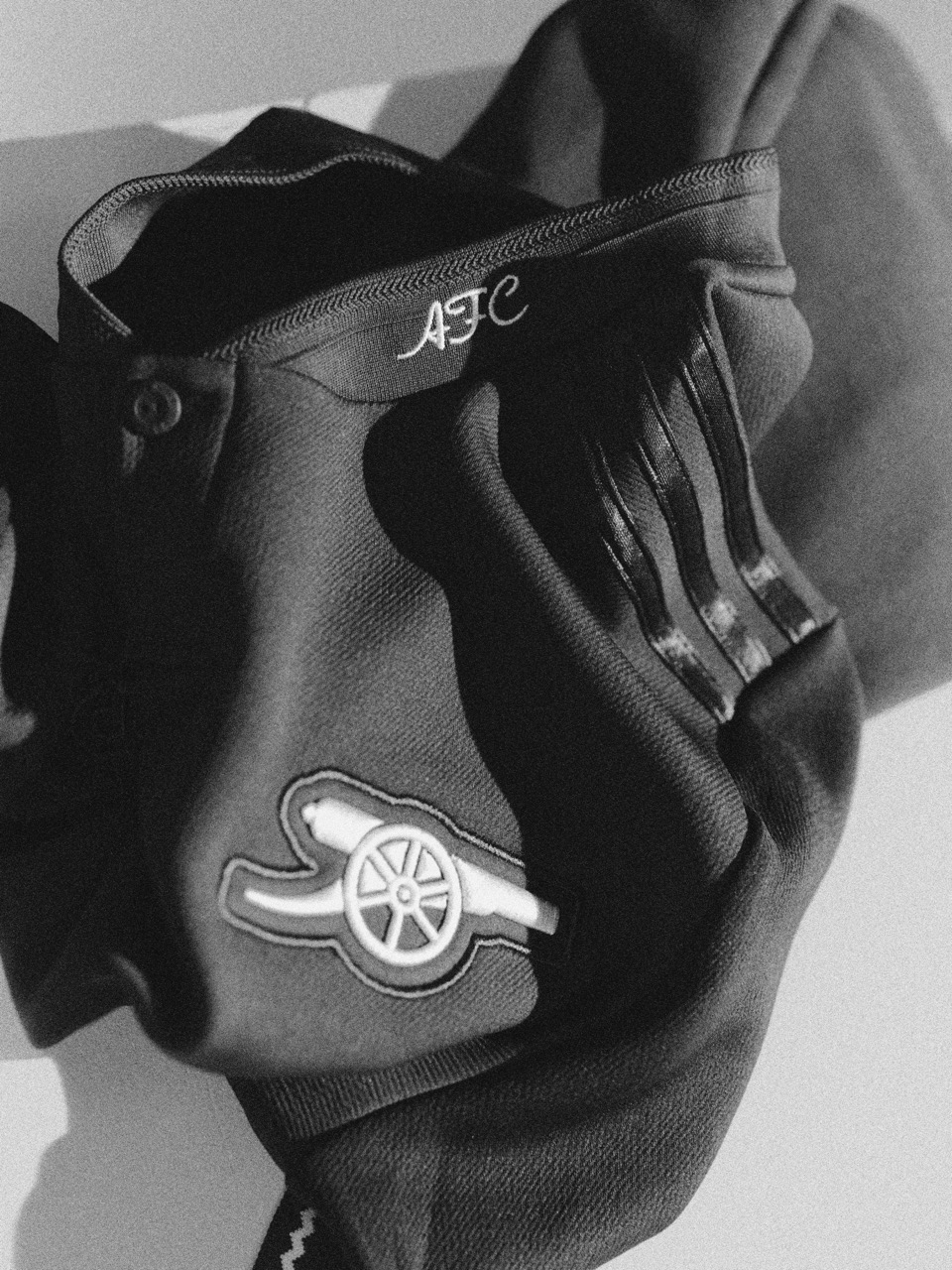 The allure of Arsenal that gripped Spiteri from a young age has endured into his adulthood. Like many Arsenal fans, he is full of optimism and excitement for the current Arsenal squad under Mikel Arteta. His number one favourite player right now? Bukayo Saka, of course. His admiration for the likes of Saka, dazzling Brazilian forward Gabriel Martinelli, and defensive cornerstone William Saliba mirrors the awe once he felt for his childhood heroes. Spiteri said he was gutted to see two of his other favourites – former club, Granit Xhaka and Scottish full back Kieran Tierney – depart the club this summer on a permanent transfer and loan move, respectively, but he remains excited for what is in store for the talented squad they have left behind.
The nature of Spiteri's job means he's working long shifts in the kitchen most evenings and weekends, meaning get- ting down to watch games at the Emirates has become tricky in recent seasons. But that doesn't stop him.
"If it's a big game occasionally we'll get someone to get it up on their phone and have it playing for us to watch in the kitchen while we're all working," he laughs. "On those days, or even sometimes for regular games, you'll catch me going about my business and stopping for a little longer than I should be in front of the phone to see as much of the game as possible!"
Whenever there's a game that coincides with one of his days off, you're likely to find him cheering Arsenal on at one of his favourite local pub spots, like The Abbey in Kentish Town. A positive and bubbly character, Spiteri feels good things are around the corner for Arsenal in the form of silverware.
"As a team, we've got more depth this year, we're back in the Champions League and our mentality is really good and our manager is amazing. As an Arsenal fan it's an amazing feeling to see the team go up against any club and have the ability to beat them when we're on top of our game," he said. "We're going to win a cup this year – I don't know which one yet, but I know the one I want us to win for sure!"