At the age of 22, Iqra Ismail, a visionary coach and award-winning personality, has paved the way for many through her work as the Director of Hilltop Women's Football Club. She is also a refugee football coordinator and advocate for the inclusion and retention of Muslim women in the world of football.
From Iqra's early days as the sole girl playing football in the playground with the boys, she discovered the pure joy and unadulterated thrill that sport can bring. As she honed her skills, Iqra's focus shifted towards creating spaces where other women and girls, like herself, could continue playing freely. Her advocacy evolved naturally, driven by the desire to provide opportunities for underrepresented groups in the sport.
Iqra's remarkable achievements have not gone unnoticed. She was honoured with the Forbes 30 Under 30 award and became the youngest recipient of the esteemed Black List award, a true testament to her exceptional work in promoting black excellence in English football. From the minute our video call started, her kindness and humanity transcended the screen that separated us; it was pure and palpable. These qualities are needed more than ever in the world we live in and are qualities required in a pioneer of her calibre. Naturally, I wanted to get to know the story behind the woman who seemingly stops at nothing to share the sport she loves and who is, without a shadow of a doubt, just getting started.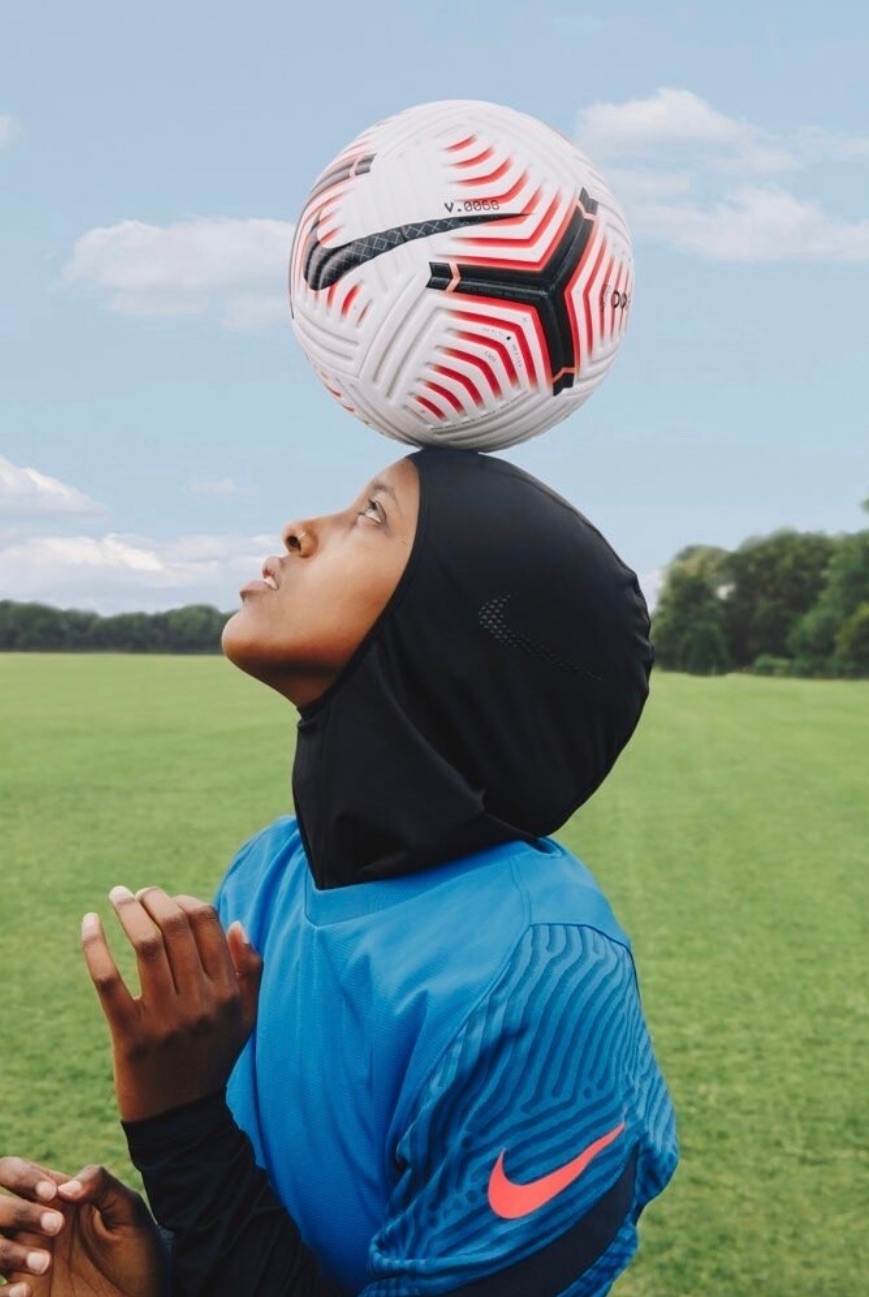 India: Can you tell me about your journey so far in advocating for more Muslim women in football?
Iqra: I kind of tripped and fell into being an advocate, more so because I wanted to create environments for other women and girls who dropped out of the game because they didn't have a space where they felt comfortable or challenged. Sometimes we get sessions that are really recreational, but there's always a portion of that group that wants a little bit more. That's when we can fail to keep people engaged in the sport. I'm not necessarily saying elite level, but slightly more competitive in a space that promotes empathy.
When I was younger, I put my head down and ignored the fact that this is not something that people like me really do. There was definitely racial abuse from fans, separatism, and extremes like that. It was hard having to push through that and try to educate people while getting past it myself. Unintentionally, I eventually became a person who paved the way for the people behind me.
India: What was your family's reaction to you playing football?
Iqra: I was born in the UK but from a Somali background, and my family and I grew up in a multicultural community. The more I've grown up and the more I've understood, it's less about them "not" wanting me to play or not agreeing with it, but more so a lack of understanding and unfamiliarity with the concept. People are often hostile to things that they're unfamiliar with.
India: Were there any people specifically in life or football that you really looked up to?
Iqra: My mom has been my biggest inspiration. She's a woman who came to this country, didn't know the language, didn't know the system. She got her English qualifications, sorted out the school system, etc. But in terms of sport, I'm a Chelsea fan, so it was always Didier Drogba – he was a big inspiration for me. There's also Rachel Yankey, one of the first black women in football whom I really resonated with and who grew up not too far from me as well.
Looking back, there was this time when I had a conversation with a random lady in the area who stopped me in the street because I had a ball under my arm. She used to play for the Somalia Women's National Basketball team, which at the time was the pinnacle of modern sport in Somalia. Looking back on that now, it's crazy because that was the closest thing I had to a role model who was similar to me and from my background. I feel like I subconsciously took that on and wanted to be that for other people.
India: What does being an advocate for Muslim women look like for you? How do you find ways to promote this inclusion?
Iqra: I think a lot of it is word of mouth with women like me, particularly in the Somali community or the world of Muslim women in school. Social media has been my best friend. I want to show people rather than talk about it and how A, B, and C can and are possible.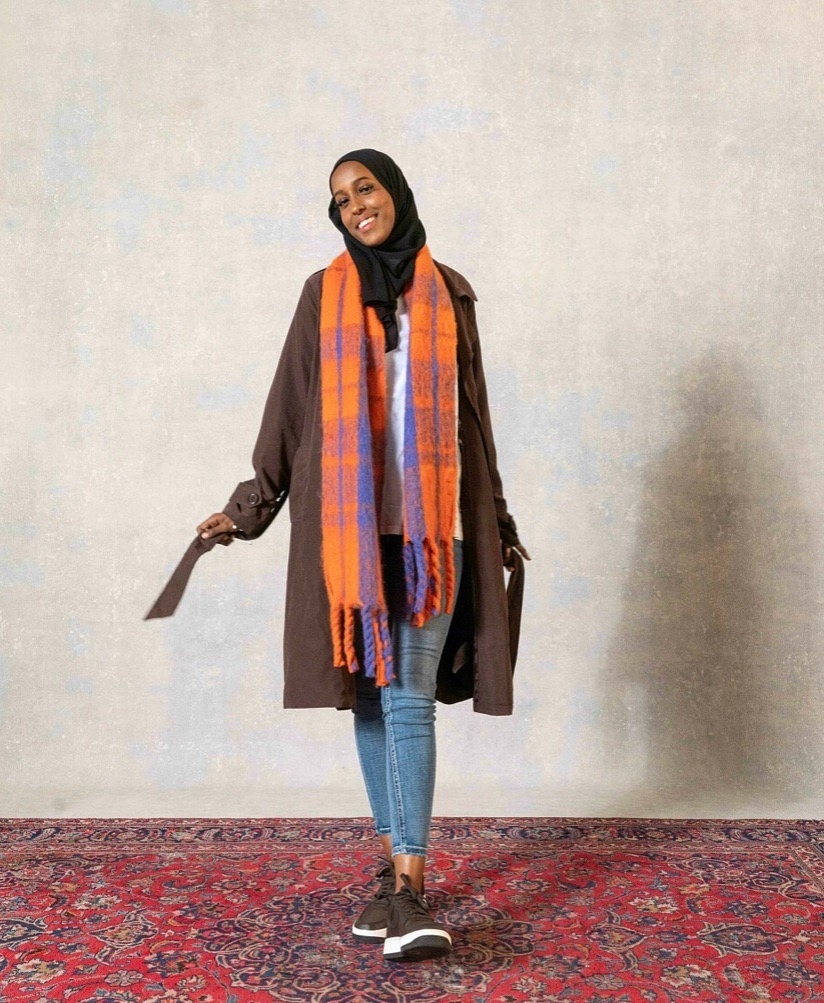 India: Being an athlete yourself, what does movement mean to you?
Iqra: Movement is a part of who I am. I probably notice it most when I'm injured. I tore a ligament in my ankle in the summer of 2021. But don't get it twisted, I will definitely still be out doing things with a boot on my ankle or on crutches. For me, movement is the freedom to explore your life.
India: What's playing through your headphones?
Iqra: I'm more into podcasts nowadays – the Digital Sisterhood.
India: What message do you wish to spread to those who are passionate about sport but might not have equal opportunities or are underrepresented in their communities?
Iqra: If it isn't going to be you, who will it be? If you don't do it, no one else will. Of course, it's hard being the first because you have to fight the weeds to clear the way. It's difficult, and sometimes it can be thankless at the time, but you'll get your flowers. Do what makes you happy and create that path because someone, somewhere will thank you for it.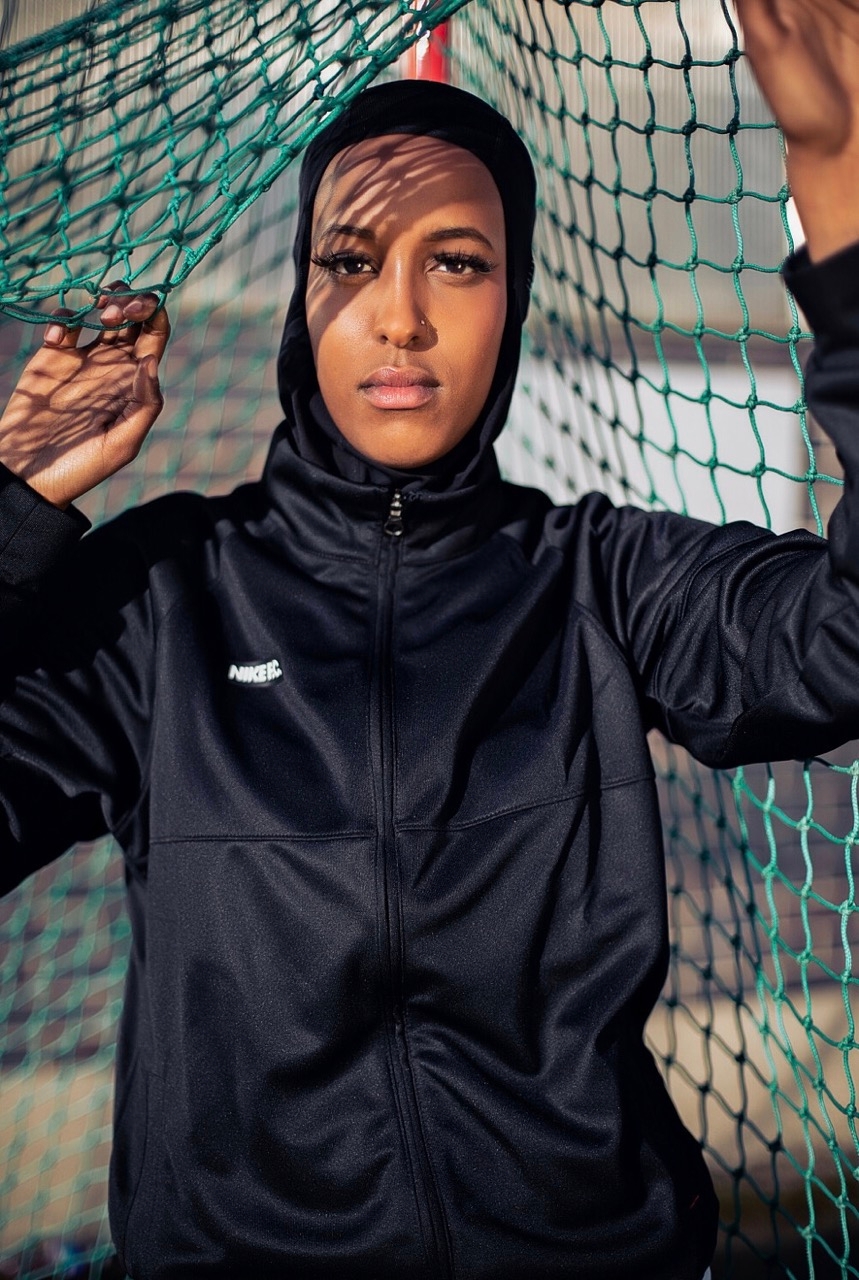 India: What have you been most proud of conquering so far?
Iqra: The first is getting to work with Didier Drogba. When I used to play tournaments, I would draw the number 11 on my hoodie. My mom was fuming at me. The second thing would have to be playing for the Somali national team. Obviously, it's not a FIFA recognized game, but I received a lot of call-ups and when I got there, I was asked to be captain. The football federation is going through management changes, and from what I've heard, they are trying to properly and officially set up the women's team this time. So fingers crossed I get to play for my country again – that's top of my list.
India: What's next for you?
Iqra: I'm looking at setting up football camps for girls between the ages of 11 and 16. I want to do a roadshow camp and go around the country to conduct football camps for this age group. It would give them a taste of football but also show them someone who is involved in the game and looks like them. I am aiming for London, Birmingham, and Cardiff, and then eventually the US, Canada, and anywhere else that needs them. All of this is funding-dependent, which is the hardest part, to be honest.
India: Why football?
Iqra: I got into the game because it made me happy, and it continues to be the reason why I stay.