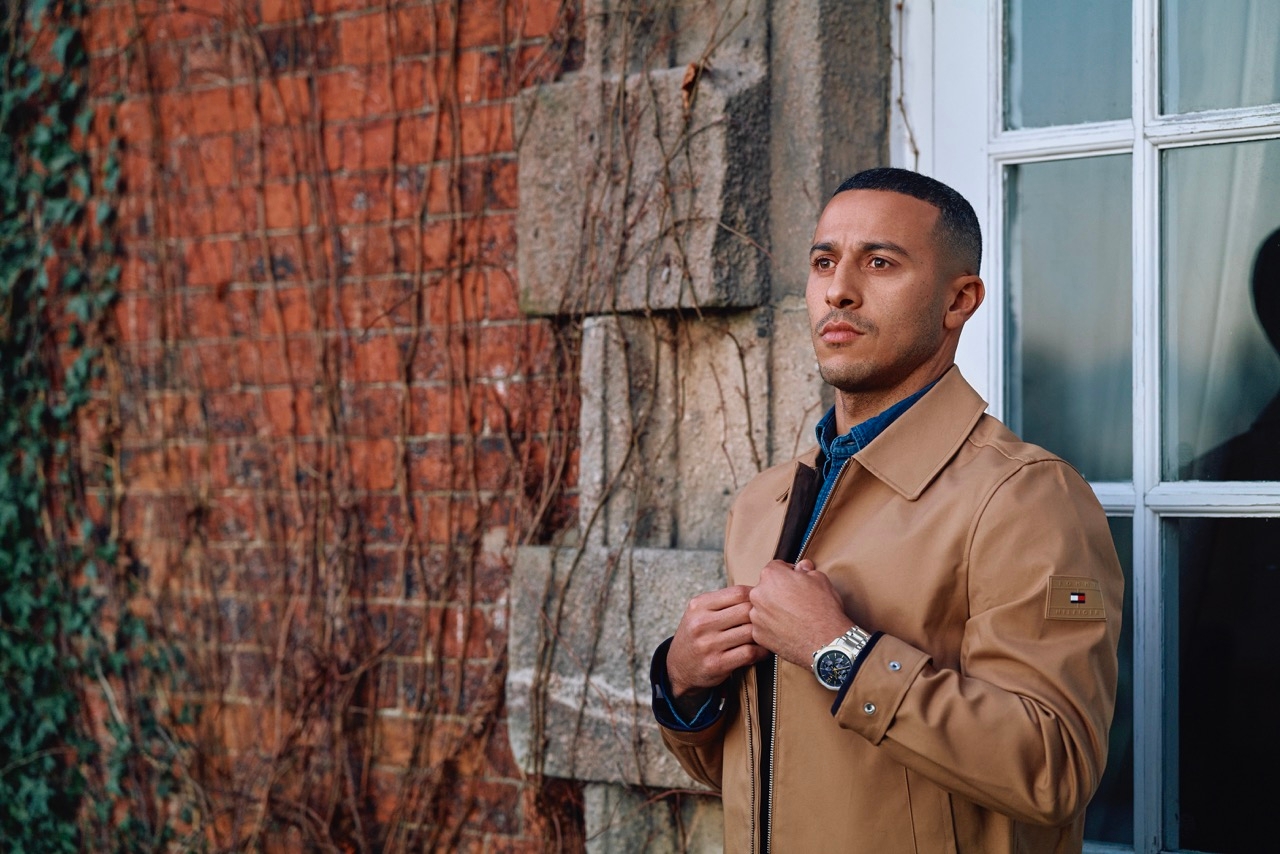 It's a gloomy day on the Greater Manchester borders – the kind of comically rainy day that verges on cliché in this grayscale pocket of northern England – but Thiago Alcântara is all smiles as he greets Marco Fischer, our photographer for the day. It's been a busy morning so far for the Liverpool and Spain midfielder, who's arrived straight from an intensive training session with the Premier League club ahead of their upcoming FA Cup fixture with Brighton & Hove Albion. We're in Mottram Hall, an impressive 18th century country hotel, spa, and golf course situated just outside of Wilmslow, to talk all things Thiago, the team, and Tommy Hilfiger. 
Tommy Hilfiger's SS23 series of watches and jewellery marks the second collection the Liverpool midfielder has been the brand ambassador for, following the huge success of the AW22 campaign. This new season once again sees cutting-edge design marry with vintage luxury across a range of timepieces and bracelets – a hallmark for the American lifestyle company. "Tommy Hilfiger's an iconic brand", Thiago starts. "We started our relationship last summer, and now with this new season, you can see there's a fresh, modern influence to their timeless watches". 
It's a collaboration that makes sense: this new season of watches are all about "Classics Reborn" – fitting considering Thiago's career renaissance of sorts at the centre of midfield in Liverpool's 2021/22 campaign, where they came so close to immortality, and The Quadruple (winning the Premier League, the Champion's League, the FA Cup, and the League Cup). In the end, the first two trophies eluded them, but his influence in the middle of the park was, and is, undeniable. "When I play football, I play in a very classic way, because growing up I always watched these incredible footballers like my father [Brazilian former midfielder and full-back Mazinho]. I saw from my home life the way for these footballers to be: professional, but at the same time having fun and expressing themselves on the pitch". 
This playful refinement is shared by the new season of Tommy Hilfiger watches. Multi-function favourites are elevated in both link bracelets and leather strap styles, and are available across a range of elegant colourways. Whilst each timepiece is undoubtedly classic, you do get a real sense of future and legacy with the fashion-forward designs. But what's the legacy that Thiago would like to leave behind? The Alcântara Family Foundation was set up to promote the social development of people who need it the most. "The Foundation is all about creating the best for people who don't usually get the opportunities others might get", Thiago tells me. "Mainly with children, because they're the future. We're passing down our parents' heritage". 
At Liverpool, there's certainly a big pool of talented youngsters and, as a senior member of the squad, Thiago plays the role of teacher and of mentor. But it's a two-way street: "They give me more joy – they rub off on me, and give me a new lease of life as a player. It's sort of like the Tommy Hilfiger watches: you are the classic one, having to renew yourself with the young ones. I'm very happy to enjoy such great talents, but also to have this responsibility that we have to have in the team: duty, and teamwork". 
After the interview ended, I watched Thiago at ease, joking around with Marco and the team as he modelled the watches. The wood-panelled, Georgian interior that he was now set against provided the most stately of mises-en-scène. Like the decor, both Thiago and the SS23 Tommy Hilfiger collection exude a class and poise –– in many ways, it's hard to imagine two icons more fitting for each other.