The year 2022 will forever be etched in the annals of English football as a monumental achievement for the women's league, enthralling millions of viewers worldwide as the Lionesses won the UEFA Women's European Championship. Among the key figures behind the triumph was striker Chloe Kelly, who currently plays for the national team and Manchester City. Her now-iconic celebration – reminiscent of Brandi Chastain's from 1999 – where she exposed her Nike Swoosh sports bra came after scoring the winning goal in the final, and it truly sparked nothing short of a movement for the recognition and interest in women's football, on every level.
I first met Chloe at a three-day Nike Women's Innovation Summit in Paris, where she appeared alongside the Lionesses' head coach Sarina Wiegman for a panel discussion in the 2nd arrondissement. I was grateful to view the teams' brand new World Cup uniforms and hear from both Kelly and Wiegman, who was appointed in 2021 and is widely regarded as one of the elite international coaches. Her career includes captaining the Netherlands – plus managing them to the FIFA Women's World Cup final in 2019 – along with the aforementioned 2022 Euros victory. With her diligent approach and unwavering mindset, she has helped the Lionesses become a force to be reckoned with. "All I see now is England playing – we will leave no stone unturned and we will come prepared", Wiegman added, in reference to their training leading up to the World Cup in Australia & New Zealand. 
As insightful as the hour-long panel discussion was, there were still a few things to unpack. Ahead of the upcoming World Cup, I was keen to learn more, so Chloe and I sat down to chat further about her journey, inspirations, and commitment to championing equality and empowerment in women's sport. She opened with, "We are staying focused and putting our foot on the gas".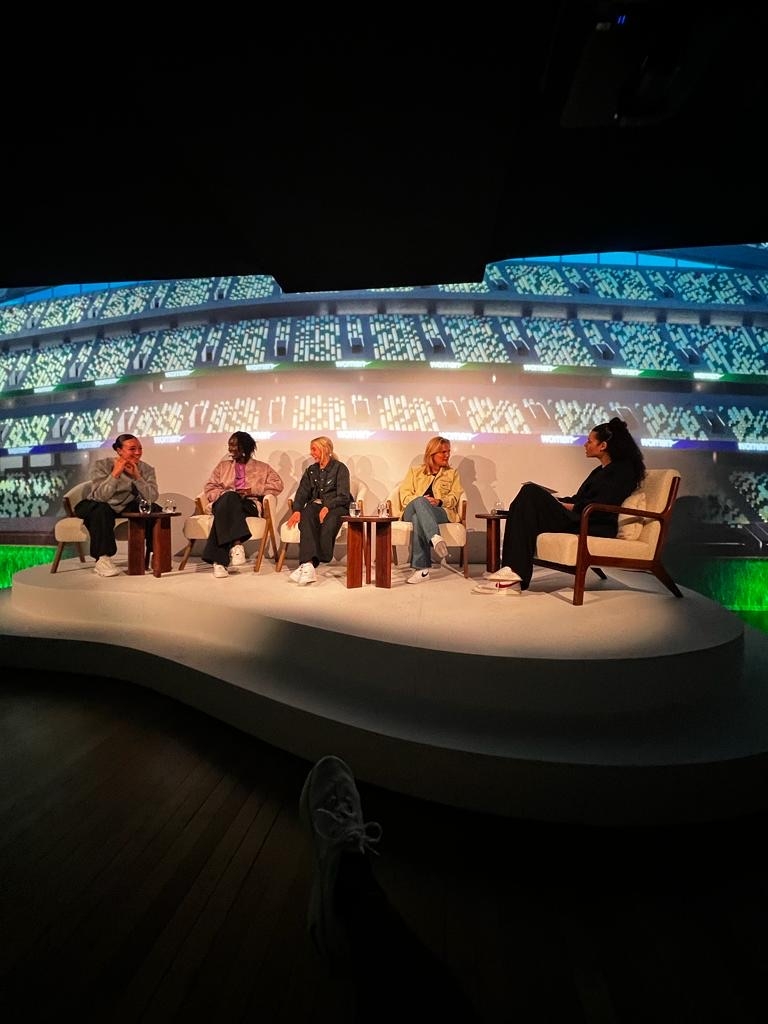 From her earliest days, Chloe Kelly and football have been inseparable. Being one of six siblings, they used to play in the cages near her house, and the sport quickly became an integral part of her life. "Ever since I could walk, I had the ball at my feet. We were always playing football", Chloe shared. Her love for the game was evident from the early on, and she soon discovered a passion that would propel her career forward. The compelling mixture of grit, personality, and talent became her defining characteristics, something that many of us can confidently say we feel somewhat envious of.
"What made me fall in love with the game was the joy and freedom I felt when I played. It's something that has stayed with me throughout my journey," Chloe revealed. Her early experiences playing with her brothers in West London's Windmill Park offered a fertile environment to develop her skills, but also ignited her competitive spirit.
When asked about her role models in the game, 25-year-old Chloe responded without hesitation: "Kelly Smith", the former England footballer. "Growing up, it was always her. I really looked up to her as a player", she said. Smith's fearlessness and passion resonated with Chloe, inspiring her to push boundaries and leave a lasting impact on and off the pitch. "She always just played on the edge. She's a brilliant person, and on the field, she played with fire in her belly", explaining what she admired most about Smith's approach to the game.
Football is not an individual sport. To be successful, you have to work exceptionally as a team, intricately matching skill sets and managing personalities. For Chloe, teamwork is more than just a group effort; it's about shared goals: "I think it's working together and pushing each other to a limit we didn't think we could reach. But also being encouraging and focusing on always being better", she expounded. This collective effort and unity within the team has been instrumental in their success, allowing them to achieve remarkable feats on the field. So far, it seems like they are indeed on the road to greatness.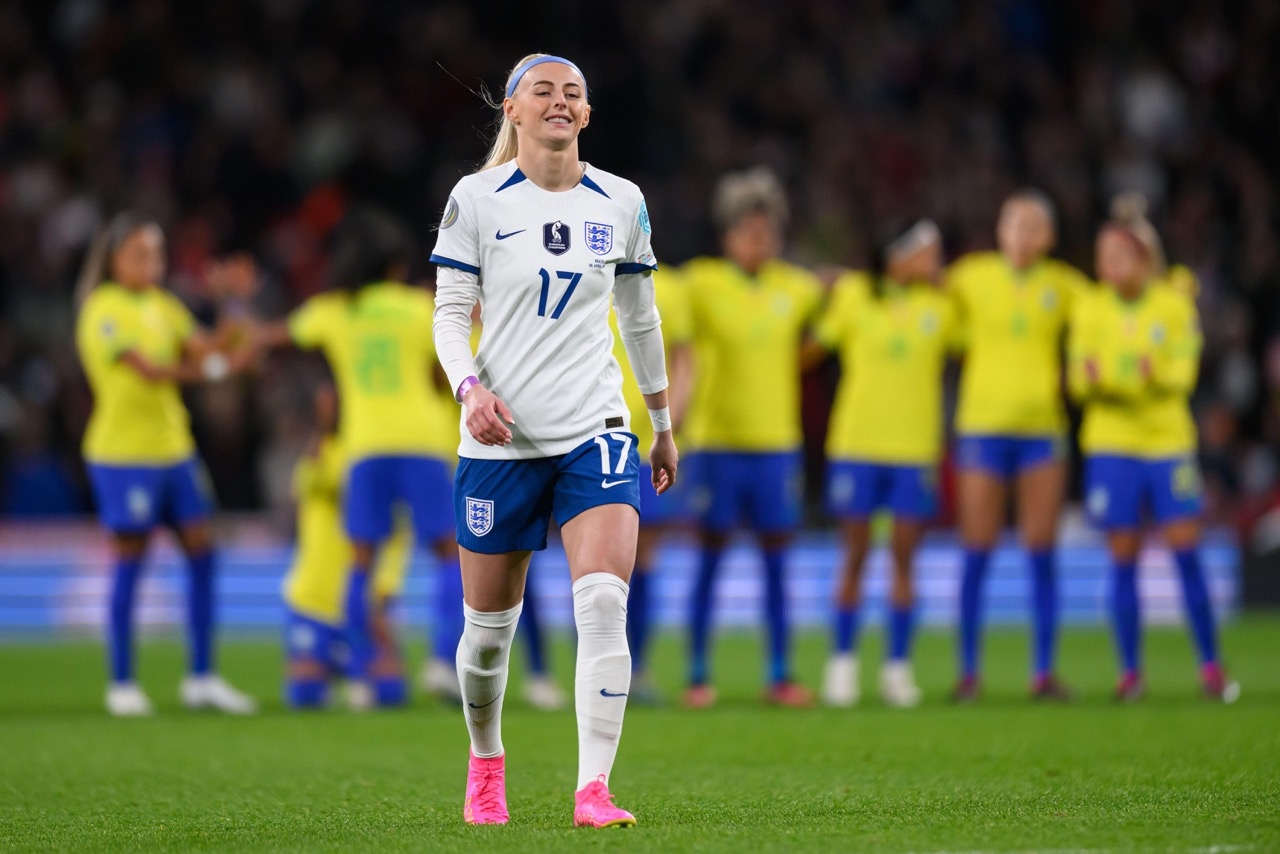 When faced with off-days or challenges, Chloe takes a proactive approach to self-development. "I analyse my game to know what I can bring to the team. I watch positive clips to keep me focused and motivated", she revealed. Music also plays a significant role in her preparation, helping her find the right mindset before games. "I mostly listen to R&B music like Drake to get me pumped", she added. Chloe's meticulous approach to preparation and mental focus contributes to her consistent and show stopping performances.
The Lionesses' victory at the Euros marked a turning point for women's football in England, with the sport garnering unprecedented attention and inspiring everyone, especially young women, to pursue their dreams. "It's great to see the impact we've had on girls and the change we have made", Chloe acknowledged. She emphasised the importance of playing 'attractive football' by entertaining a wider audience, and aspires to lead by example when it comes to changing people's mindsets about the women's game. With its recent surge in popularity, and considering the screening data from the Women's Euros, who could argue? It certainly seems like they have set the stage for an enthusiastic and loyal viewing party – both at home and abroad. The time has come for women's sport to be more equally represented, and with rising attendances at games as well as increased sporting opportunities for young athletes, the FA has now launched over 56 Emerging Talent Centers across the country as "Women & Girls' Players' Pathways."
When it comes to the younger generation entering the game, Chloe's advice is simple yet powerful: "Be yourself and enjoy every moment, because it flies by". Embracing individuality and finding joy in each experience is crucial for personal growth and development. Chloe's journey serves as a testament to this advice, as she continues to thrive by staying true to her values and using her platform to inspire the next generation of footballers worldwide.
As the Lionesses gear up for their next big challenge, the 2023 World Cup, all eyes are on our girls. Chloe Kelly is expected to play a pivotal role in the team's success alongside the likes of Alessia Russo, Mary Earps, Millie Bright, and Kiera Walsh, who will be representing England in Australia. The England women's team has been drawn in Group D with China, Denmark, and playoff qualifier Haiti, with whom their first match will take place on July 22nd. We'll be eagerly awaiting to see the national team at the upcoming Women's World Cup, but in this new era of football it's hard not to celebrate all those who are competing. Until then, the future is looking bright for Chloe Kelly, the Lionesses and the sport as a whole. Is it too early to say "it's coming home"? We don't think so.