CircleZeroEight presents Tales of the Unexpected, a limited edition zine made in collaboration with adidas and Arsenal to commemorate the launch of their new LFSTYLR capsule collection.
KING PUSH IS a Gooner. You might not have initially set the Bronx-born, Virginia native amongst the serene Victorian ter- races of Highbury, but in many ways, Arsenal Football Club and Pusha T are a natural fit: both have a storied history; both have achieved stunning highs over the years; and both are deliciously silky on the eye – or the ear. For Pusha, it's an admiration rooted deep in the fervour of matchday, which he likens to that of a crowd at one of his shows. ☞ "The fans are super passionate, and any time you're surrounded by that energy, you get pulled in", he says as we quickly catch up with him on the shoot for the kit. "It's the same exact thing [as a concert], and I'm pretty sure it's the same for the players. I'm just giving what the fans give back to me. When they're giving you that energy, you have to show up".
As anyone who's been to the Emirates over the past couple of seasons knows, the atmosphere on matchday is electric, and is a huge part of the reason why the team are doing so well at the moment. Arsenal is so much more than just a football club. It's the unshakeable bond between fan and place; place and team; team and community. And these important connections carry over into the world of music, as Pusha notes: ☞ "I think having those types of bonds and relationships – long lasting; family oriented – makes the music that much better".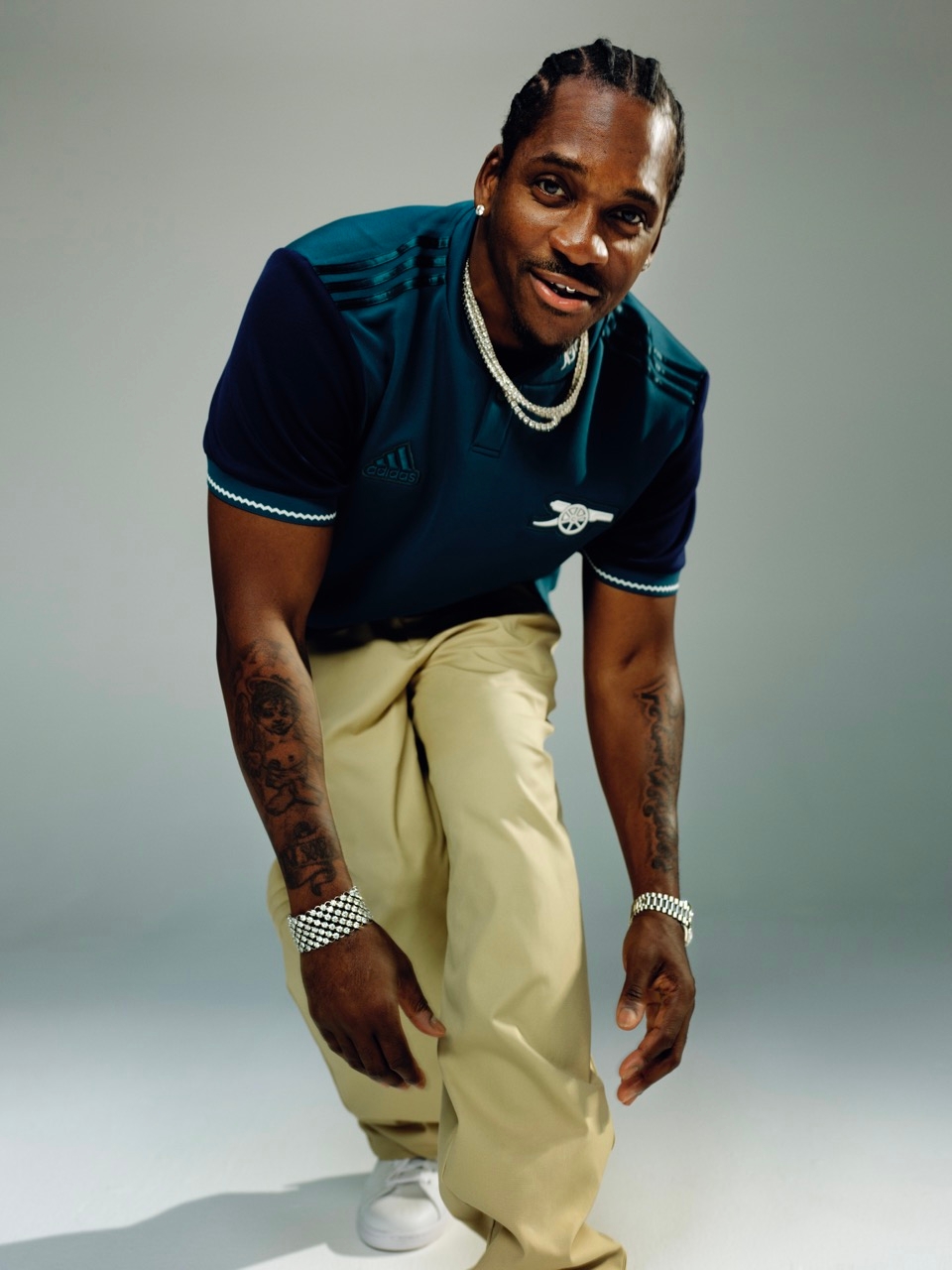 One of the other unshakeable bonds in football is that between the game and fashion. Terrace culture has gradually permeated the world of couture since the 1980s, to the extent where today you have arguably celebrities, like Kim Kardashian, strolling around in vintage footballs kits. Arsenal and adidas have continually pushed the boundaries with their designs at the intersection of football and fashion, with the kits on display in recent seasons often as eye-catching as the performances that come in them.
So where did Pusha T's love of football fashion come from? There's been a steady rise in rappers wearing the shirts of big clubs but, much like in many other areas, the former Clipse man was ahead of the game. ☞ "I would buy soccer jerseys and customise them. There's something very sporty yet luxury about soccer jerseys, and I always saw it as that", he tells us. It's a passion that's not been without its controversy, as Pusha explains: "There was one time where I would take a soccer jersey from a particular country and put a crime family from that country on the back of it. And, you know, I got in a little bit of trouble for that. I was in Italy once when this happened and, uh, well, it went kind of viral. But that was just my spin I put on soccer jerseys. Honestly, I've always had or noticed something about them that stuck out to me". Those days may be behind him, but Pusha still regularly rocks a football shirt, as he goes on to say: ☞ "I think there's something about the silhouette of a soccer jersey that just gives it a little bit more 'everydayness' than other [sports] jerseys".
The reputation of stateside football fans – and American soccer more generally – is slowly improving in England, and you increasingly hear accents from all across the USA on matchday at the Emirates. As the recent transfer of Lionel Messi to Inter Miami and all the international focus on it shows, the sport is finally becoming the big thing in America that a country of its size probably deserves. Has Pusha noticed the increase in fans from across the Atlantic tuning in to watch? ☞"1000% for sure. Football is definitely growing here. I recently went to see DC United. Oh man, the fans there are nuts. Every- body is so passionate about the game. It's sort of like that with everything: sometimes you won't know about a particular culture or music or sport, but once you get in there with the people who are passionate about it, you quickly catch up to speed and see the excitement, and it's sort of infectious".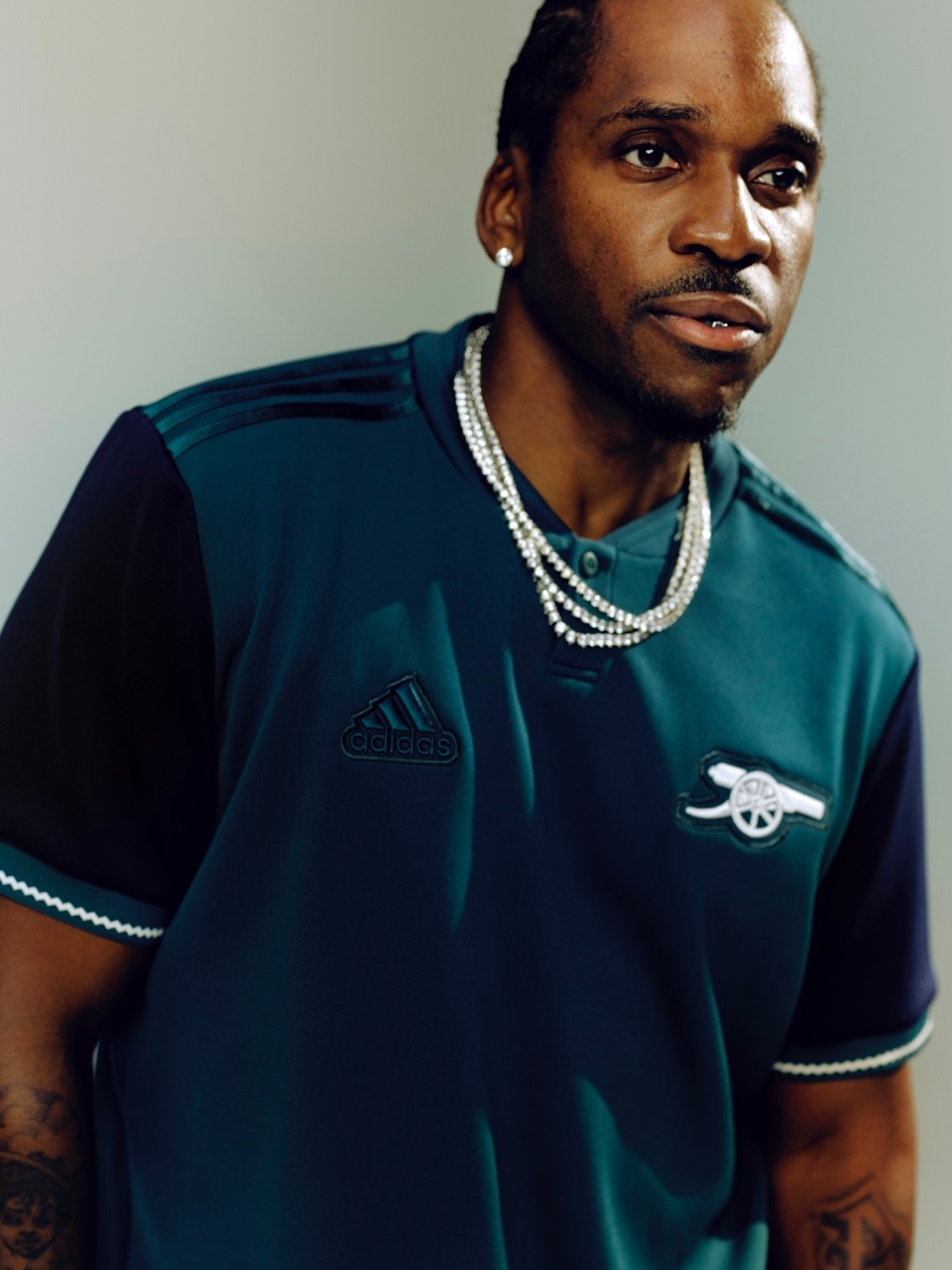 Pusha's genuine love for the game is infectious in itself. Before he leaves, we ask him the all-important question. What does he think of the new Arsenal shirt? ☞ "Oh, man, I love it. I love the whole look for today. It's awesome, for sure". And with that, Pusha exits the building. Long live King Push. 