Timing is everything. The morning we get to interview the best central defender in the world he's just played a key part in his Liverpool team's frankly unexpected defeat of Manchester City the previous afternoon, and he also managed to prevent the current best striker in the world, Erling Haaland, from scoring any goals. An almost unprecedented achievement in the 22/23 season so far. So when we congratulate Virgil Van Dijk on this result, and suggest he must be a happy chap right now, a wry smile plays across his face. Indeed he's chilled and cheerful for the duration of our conversation. He's serious when he needs to be, and never less than honest when discussing himself, his manager and his career, but he doesn't take himself as seriously as you might think. 
Today he's light-hearted and oozing positivity. Verging on bubbly, even. Which is in sharp contrast to how he comes across during matches, when he is, for the most part, calmness personified. Indeed, Virgil's on-field persona radiates dignity and composure to an almost superhuman degree. Especially for a defender. Does that come naturally to him, or is it something he's worked on? "I am quite a calm person,", he says, smiling, "Although if you put a camera on my face during a whole game you might sometimes see me shouting and going absolutely nuts. And if I am like that, that's because I'm a winner. I want to do everything that's possible to win, in a clean way of course. And that's always been the case since I was a little boy". But more often than not, Van Dijk is remarkably composed, and he has a fascinating theory as to why he comes across that way to those of us who've been watching him play football going back to his days at Celtic, then Southampton, before he joined Liverpool for that record-breaking fee of £75m in 2018. "I do know that it looks like I'm very calm and that nothing affects me", he says. "But I think it's just that I'm tall and I run in a certain way. You know, I have a look and that's something I can't change. It's just there". Off the pitch, we wonder, how did Virgil maintain any type of calmness when he became the most expensive defender in football history? Did he feel the pressure then? "I think at Liverpool all of us are under Immense pressure. That's what comes with the size of the club", he points out. "The history of the club means there are expectations. And for me personally, obviously I was bought for quite a lot of money and it was the record fee at the time, so before I even played for Liverpool there were already so many opinions, negative opinions, good opinions, or whatever". On the subject of that record fee for a defender, he recalls something his manager Jürgen Klopp said to him at the time. "He told me the price tag is something I don't have any influence on. 'You didn't decide that you were going for this kind of money', he told me. 'it's your market value'. And he told me just to go out there and play and enjoy myself. And I think I did pretty well," he smiles. What does he remember about his debut for Liverpool (against Everton in the third round of the FA Cup in 2018)? Was he nervous? "To be fair, I wasn't really nervous. I felt like I was ready for it. I was ready to get out there. I was just excited." Van Dijk wasn't expected to play in that game, which took place on a Friday night, a mere matter of days after he put pen to paper and officially became a Liverpool player. But on the day of the match, after they trained that morning ("which was new to me", he says), and got the tactics talk from the manager in the build-up to kick-off, all of a sudden central defender Dejan Lovren was struggling with his hamstring. So Klopp summoned Virgil, told him he'd be starting the match – a Merseyside derby debut, no less, and said, "Let's get out there and show the world and show yourself that you are ready for this!" "I was buzzing!" says Virgil, palpably thrilled at the memory. And of course he scored the winning goal with a header late in the game. "It was a great moment for me. All I ever wanted to do was play football and help the team win, and that's what happened", he says. 
Virgil, now 31, is such a fixture for Liverpool that it's weird to reflect he has only been at the club for four and a half years. It feels like he's been there for decades, and is synonymous with the Klopp era. His relationship with his manager seems particularly special. What does he think is the secret to Klopp's success? "Well, I think what you see is what you get", observes Van Dijk. "He's very passionate. He's very direct. But he's a warm man, and he's emotional as well. You know he can say certain things to you that maybe can hurt you. But he wants the best out of you, and that's how you should see it. That's how I think you should see any form of criticism from people close to you". It's a thoughtful, nuanced and honest account of how Klopp works. "But", he adds pointedly, "in general I think my relationship with him is outstanding. You know he got me here and he had full trust in me, and it was me or nobody. And that's something I really appreciate", he says, referring to how Klopp patiently waited for the opportunity to sign Van Dijk having failed to secure a deal for him with Southampton in the previous Summer before he eventually got his man. He didn't turn to anyone else in that time. Klopp only wanted Virgil.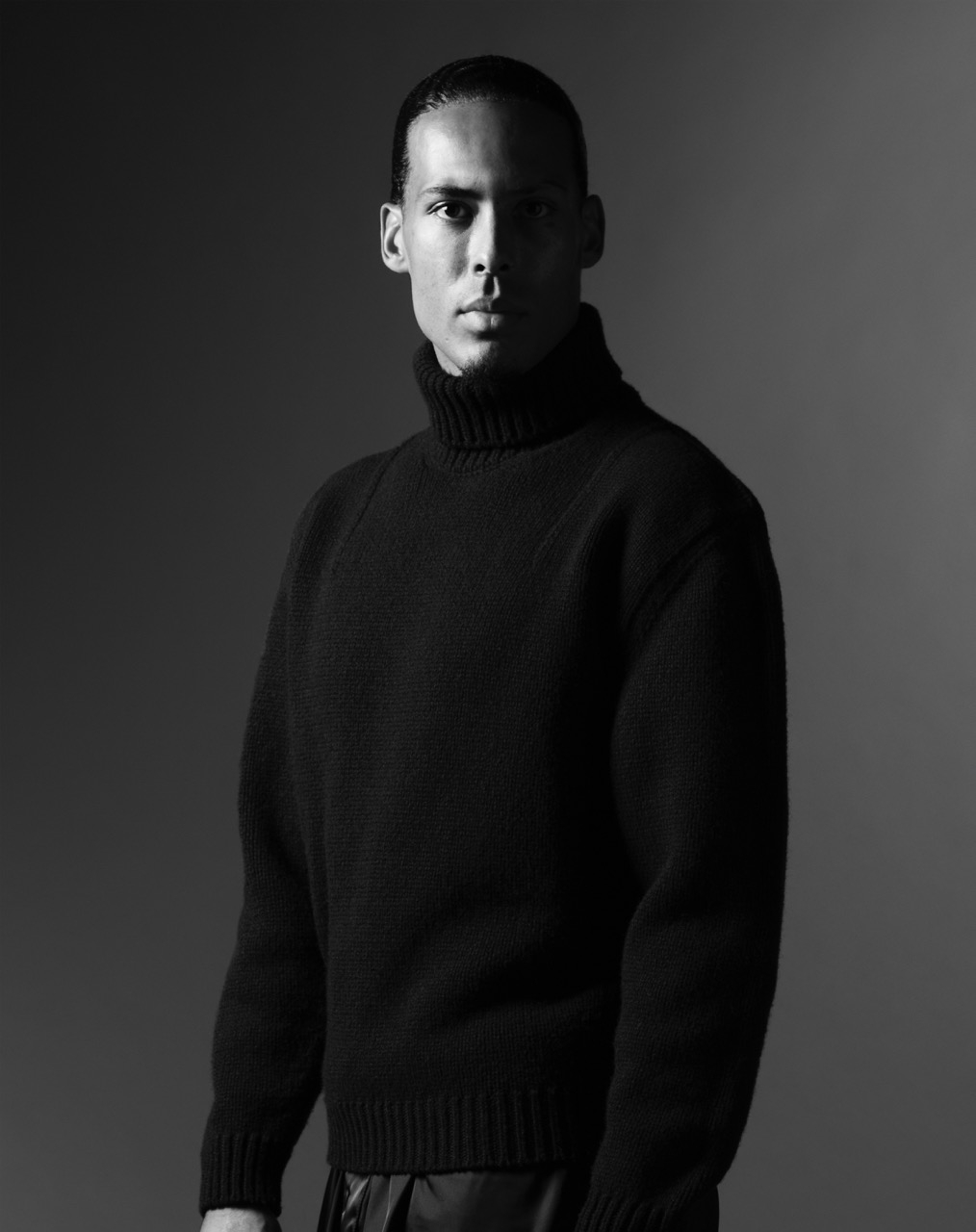 We discuss Virgil's ups and downs since he's been at Liverpool, and the clear winner in the "up" categor is winning the Champions' League in Madrid in 2019, defeating surprise finalists Tottenham. "The joy of that feeling on the final whistle was something I can't really describe", he explains. And the team made sure they celebrated that win in style. "You have to celebrate otherwise you can take these things for granted", ponders Van Dijk. "They are beautiful moments and you have to make sure you remember them".
As for the very few downs of the last few years, he did get a dreaded cruciate ligament injury in 2020, and barely played at all for the rest of that season. But Virgil is strikingly philosophical about that painful time. "Mentally it's a big thing, because a knee injury is the worst you can get as a football player. It was definitely a big, big shock to the system. But after a couple of weeks, when I was able to walk again, the focus was immediately on getting back to my best, and I had one of the best periods during rehab, being away with my family and my kids. So actually it was such a precious time. Which shows that with every bad thing, there's always a good thing about it. There's a saying for that in English isn't there?" 
Every cloud has a silver lining? 
"Exactly, that's the one!", he laughs. "And I do think things happen for reason, so that's how I see it. And while it was unfortunate this had to happen to me, it made me stronger in certain ways, too."
Apart from that injury-marked season, and the team's surprisingly inconsistent start to the current league campaign, most of Van Dijk's time at Liverpool has been marked by a series of extraordinary triumphs, from that Champions' League trophy in 2019 to becoming Premier League champions over Pep Guardiola's Manchester City in 2020, to the astonishing fact that Liverpool have still (at time of writing) never lost a game at Anfield when Van Dijk was in the team; he's won Players' Player of the Year, UEFA Player of the Year, and was even named runner-up in the legendary Ballon d'Or to one Lionel Messi. Pretty much unprecedented for a defender. On this point, he intriguingly names superstar forwards Ronaldinho and Ronaldo ("the Brazilian one", he hastens to add) as the players he most loved growing up, and not any centre backs. "They were in that Brazilian team in 2002 [which won the World Cup]. I was eleven then, and I just wanted to re-create what they were doing. They inspired me a lot". And he has no issue with the creative players and the goal-scorers hogging the limelight. "You want to see goals. You want to see great actions. You want to see tricks. That's why I loved Ronaldinho. For me, he had the joy and the fun and flare, and it was a joy to watch him".
Thinking about those legendary Brazilian players and their World Cup victory, thoughts turn to this year's tournament. We mention to Virgil how it feels to many of us that the timing of the World Cup, and the location, and pretty much everything about it seems unique and difficult to process. We can't wait, but we also can't quite get our heads round it. in classic Van Dijk style, he's totally positive and upbeat about the whole thing. "Obviously having it in the middle of the season is something different" he says, "but everyone is ready for it, I can tell you now. Everyone is preparing for it, and for me personally, playing my first major tournament for Holland at the World Cup – that's a boyhood dream. So, being out there and leading out my team as captain, representing my country, it's something I'm looking forward to so much, and hopefully we can represent Holland in the most beautiful way possible".
Virgil uses the word "beautiful" quite often, perhaps appropriately for such an elegant practitioner of the beautiful game. That elegance is also on full display in our shoot with him. Unlike many of his footballing peers, Van Dijk is not drawn to gaudy clothes and big logos and labels. His innate classiness extends to his taste in clothes. "I'm not a flashy guy", he says. "So I like to wear a lot of quite plain clothes where you don't see the brand names. Let's keep it that way. And I'm very blessed because I'm quite tall, so I can dress quite easily in a lot of things. I like a nice coat as long as it's plain with not too much branding all over the place". None of this surprises us. But then he suddenly adds, "I do like my sneakers though. I've got a lot of sneakers. Nike blesses me with a lot of great sneakers!" We didn't take Virgil for a sneakerhead. But he most definitely is. And what's his favourite pair? "Well since my Southampton days I like wearing my Nike Air Max 1 Flyknit in red and white. I wear them to each and every game", he says. "Not the same pair for seven years, by the way! Luckily enough I'm honoured that Nike sends me new pairs regularly. And I like low Dunks. I prefer low-tops in general, especially the ones Travis Scott designed. Nike is doing a great job. As long as they keep sending me nice sneakers!", he says, smiling broadly. While he's in this positively jocular mood, we wonder who he thinks is the most stylish Liverpool player right now. He takes a few seconds to ponder this crucial question. Then finally: "I would normally say Divock Origi but he's left us now and gone to Milan – the fashion city, which is good for him. So if we really think about it now… I would have to say… myself". And really, who can argue with him? His style off the pitch matches his style on the pitch. Elegance personified.