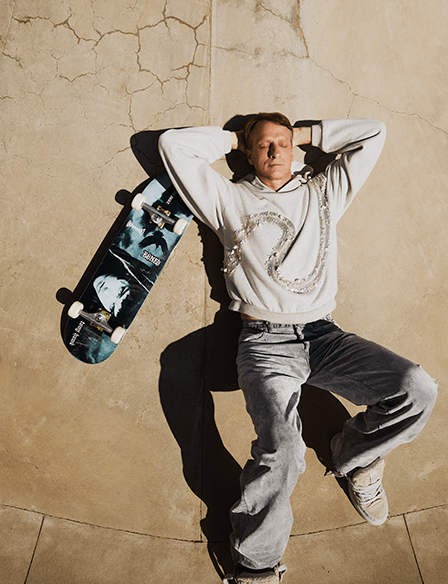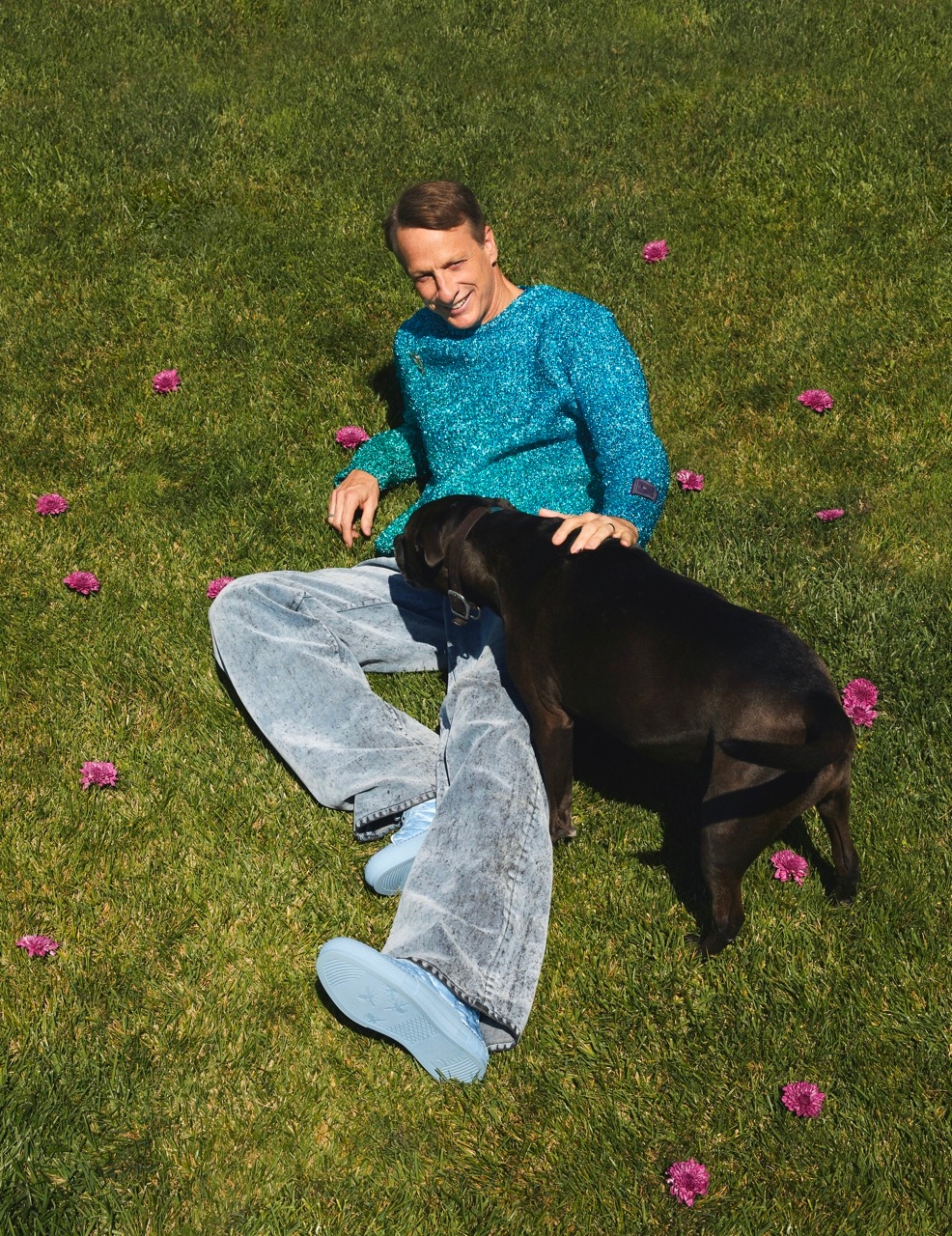 Dressed in Dior X ERL's Spring/Summer collection, riding the transitions of his backyard skatepark in San Diego, making full use of his personal concrete paradise, Tony Hawk does not seem like a man in recovery from the biggest injury of his career.
"A lot of people will ask, 'What age can you continue doing this to?'" the 54-year-old will say later on. "And I guess I am going to be the test case for that. But now the question for me is, 'At what age can you recover from a traumatic injury?' Well, I am going to find out."
Back in March, Hawk suffered a horrific leg break, misjudging the landing on a trick that he'd performed tens of thousands of times before (a 'McTwist') and snapping his femur into two in the process. "Yesterday sucked," he said, as he announced the news to his 4.7 million Instagram followers, alongside a grisly X-ray of the damage. Further down the post he admitted that recovering from this would be one of the greatest challenges of his career, but added, "I'll be back…"
True to his word, the world's most famous skater was back on his board at a superhuman pace, relearning some of his vast array of tricks, updating his social media following his progress, and squeezing lunchtime skate sessions into his busy work schedule once more – which, on a typically sunny late September afternoon, includes a photoshoot with CircleZeroEight. Carving around on his board for the camera and ollie-ing off a diving board into a (filled) swimming pool may be an unconventional approach to sports rehabilitation, but then it's been a somewhat unconventional career.
Tony Hawk was the original breakout star of skateboarding, an action sports athlete who transcended the confines of a subculture to become a global star, a household name that's utterly synonymous with the sport he helped to pioneer. Born in 1968, Hawk grew up in Carlsbad, California, just as the second wave of skateboarding began to rise. Having been given his first board by his older brother, Steve, at the age of nine, Hawk rarely put it down again, his prodigious talent and winning streak on the competition scene seeing him turn professional by the age of 14.
As part of Powell Peralta's iconic Bones Brigade team of the 1980s, Hawk helped to define skateboarding and drive it firmly into the mainstream culture of that decade. Even in the most famous, most gilded team in the history of the sport – Lance Mountain, Mike McGill, Steve Caballero, Rodney Mullen – the skinny teenager with size 12 feet stood out, and his sheer inventiveness, indefatigability and winning habit led him to be regarded as the best in the world. Sales of the Tony Hawk signature-model skateboard earned him hundreds of thousands of pounds a year, meaning he was able to purchase his first house while still at high school (the second followed while was still in his teens). Hawk rode out tougher times during one of skating's periodic dips in popularity in the early Nineties, before the wheel turned again and vert-ramp skating became blockbuster viewing with the launch of the X Games. He earned ten gold medals competing at the annual event, including a memorable 'Best Trick' in 1999 for landing a '900' (as in 900 degrees, or two and a half rotations in the air). That same year also saw the release of 'Tony's Hawk's Pro Skater', the seminal video game that has gone on to spawn 19 sequels or spin-offs, and took his fame (and bank balance) to a whole new stratosphere – in its various iterations the game is estimated to have sold more than 1.4 billion copies. Now well into his sixth decade, Hawk remains the undisputed GOAT, and, despite the setbacks of this year, doesn't appear to be ready to hang up his knee pads and call it a day just yet. 
"What is retirement in skateboarding?" Tony Hawk asks rhetorically, when we chat over Zoom following the photoshoot, a selection of his signature decks lining his office walls behind him.  "I haven't competed in a long time and, in many people's eyes, that is retirement. But I am actively skating, I am doing exhibitions, promotions, I am doing video parts, and so to me that is being a relevant professional." 
Staying fit is an obvious challenge for any midlife athlete but staying relevant is no easy feat either, particularly so in skateboarding, with its culture that thrives on progression and the 'new', and which, in the age of social media, seemingly unearths new tricks and fresh spots on a daily basis. The skater who became known as The Birdman, however, has a profile that remains appropriately sky high. This year saw the release of his HBO documentary 'Until The Wheels Fall Off'  ("it was ironic that I broke my leg as that was getting released"); he made an appearance as a presenter at the Oscars; his Hawk Vs Wolf podcast continues to be a runaway success; Birdhouse Skateboards, the company he founded and still owns, is as strong as ever after 30 years; and he remains one of the sport's most active advocates and fundraisers with The Skatepark Project, which has helped fund more than 600 skateparks in the US alone. 
As someone who has possibly spent more time at skateparks than anyone else in history, Hawk will have also been witness to a noticeable expansion in the sport's demographic over the past few years. Middle-aged men and women have discovered, or re-discovered, the sheer joy of whizzing around on plywood and urethane, so much so that a recent study at Exeter University investigated the phenomenon and highlighted the sport's serious emotional benefits for those in midlife. Meanwhile, anecdotally, skate shops have reported an increase in the number of older skaters and women buying boards for the first time, with some statistics suggesting that the number of female skateboarders has doubled in the past five years.
"I think that skateboarding is absolutely one of the most inclusive [sports]," says Hawk. "If you go to a skatepark right now, there is probably someone who is either a sponsored skater or a top pro, there are people of all genders, of all races, and of all ages, all skating together and I don't know any sport that you can say that about." 
An expanding and increasingly inclusive scene may be one reason why the fashion industry has increasingly taken an interest in not just skate trends, but also its brands and those who make up the community. Hermes, Dior and Jimmy Choo have all released skate-inspired collections at various points; Louis Vuitton worked with pro Lucien Clark to produce a skate shoe; while British skate brand Palace has collaborated with everyone from Adidas and Harrods to Polo Ralph Lauren and Moschino. However, in truth, even before this current boom, skateboarding has always punched above its weight in terms of the cultural impact it has on mainstream fashion. "I think they're very much aligned because some of the skate brands are dictating fashion trends, and I feel like it's always been leading up to that," says Hawk of the current relationship. "If you look at skateboarding through the Eighties and Nineties, it was definitely an iconic style, it was its own direction. Then as high fashion started to pull from that look, the merge was very seamless." 
What about his own sense of style down the years? "When you look back at any fashion trends, it can be a bit cringe," he laughs. "But I think probably the more regretful looks are the ponytail stuff – we [skaters] kept growing our bangs and suddenly it was, 'Wait, hold on, they're not just bangs any more, it's just long hair." 
Hawk's own eponymous streetwear clothing line launched in 2019, with a campaign shot by Anton Corbijn, and he's about to begin work on a high-end apparel line for Birdhouse. "I can't say that I am the expert at it," he admits of the design process, "but I enjoy seeing the ideas and figuring out what would have synergy to our brand aesthetic and what could be more revolutionary."  
As for why skateboarding has remained such a constant source of inspiration for fashion, Hawk believes much can be attributed to its authenticity, originality and sheer start-up energy. "Skaters themselves are individuals, they're irreverent and they want their style to exemplify that. So when you see a skater, there is something there that you recognise, that is a DIY attitude, that is confidence but is different, noticeably different. I feel like there is this unspoken aura that it's a 'skater'."