When Paul Page first started taking his son to watch Bohemians, the club were on the brink of financial ruin. It was 2013, and the former guitarist of cult Dublin indie band Whipping Boy was mainly looking to spend some quality time with his kid. However, it wasn't long until he was fully sucked in. After rediscovering a boyhood love for a football club with firm roots in its local community, he's played his part in a remarkable decade-long journey that has taken 'Bohs' from near-bankruptcy to a place of both security and local pride, making them the envy of clubs across Ireland and beyond.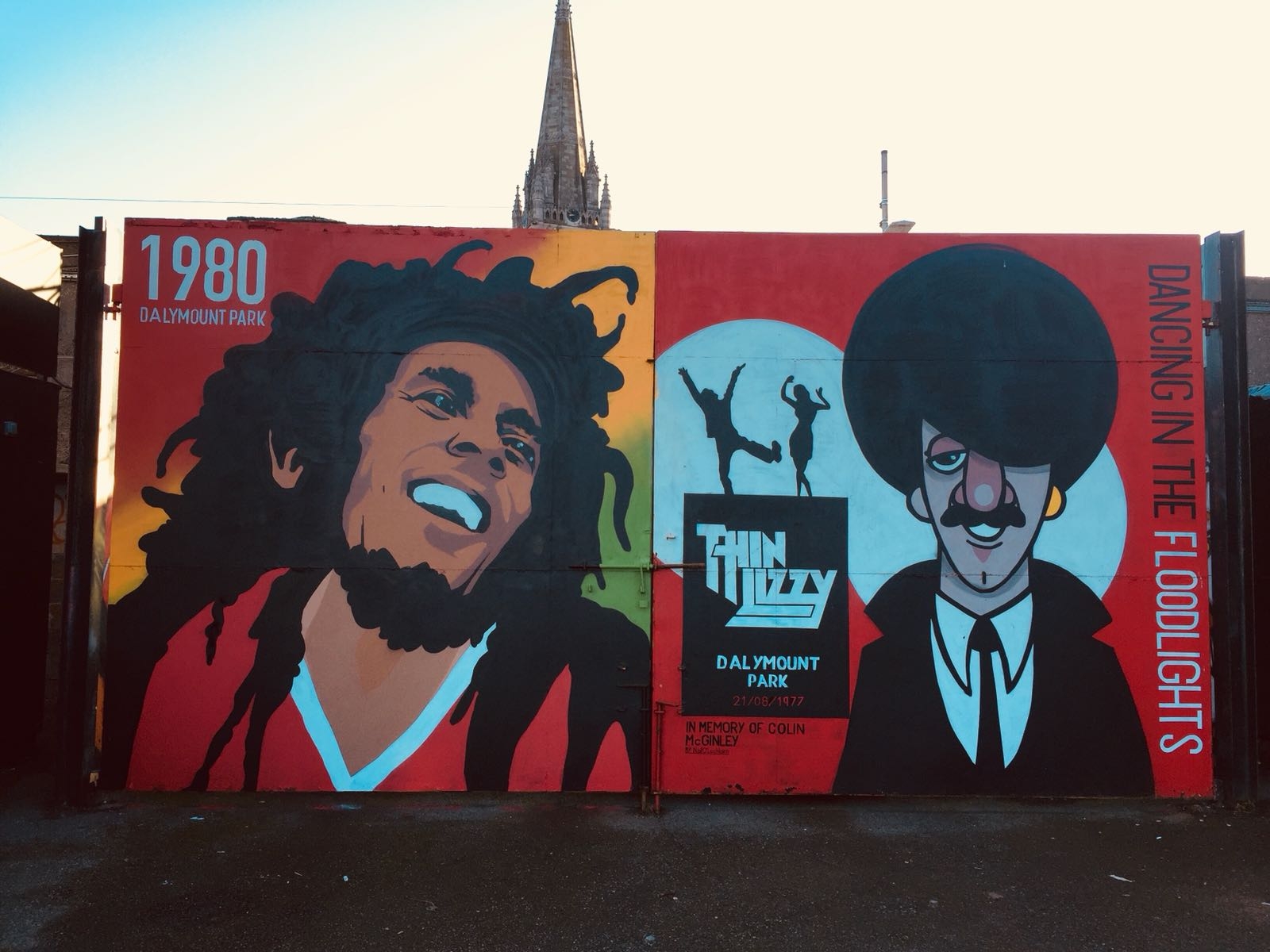 "There has to be more to it than what goes on on the pitch", says Page. "We have a very strong identity as a club who are looking to do good in the local community; to make a positive impact and contribute to society in a positive way". In recent years, Bohs' progressive identity — founded on the basis of a one member-one vote community ownership model — has been reinforced by a number of impactful projects. They've been vocal defenders of refugee and migrant rights (emblazoning 'Refugees Welcome' across their 2020 away shirt); they've raised money through shirt sales for causes like Focus Ireland, a homelessness charity; and they run various community programmes in local spots including Mountjoy Prison.
And while Bohemian FC aren't the only modern club doing good in their community — they have close links with other progressive sides across Europe, including Union Berlin and Clapton CFC — there is something distinctly unique about the Dublin club: their illustrious musical heritage. This aspect of their DNA, which has its root in the historic concerts that have taken place at their home ground Dalymount Park over the years (Thin Lizzy in '77; Bob Marley in '80; Black Sabbath in '83; Sonic Youth in '93) is a key part of Bohs' identity.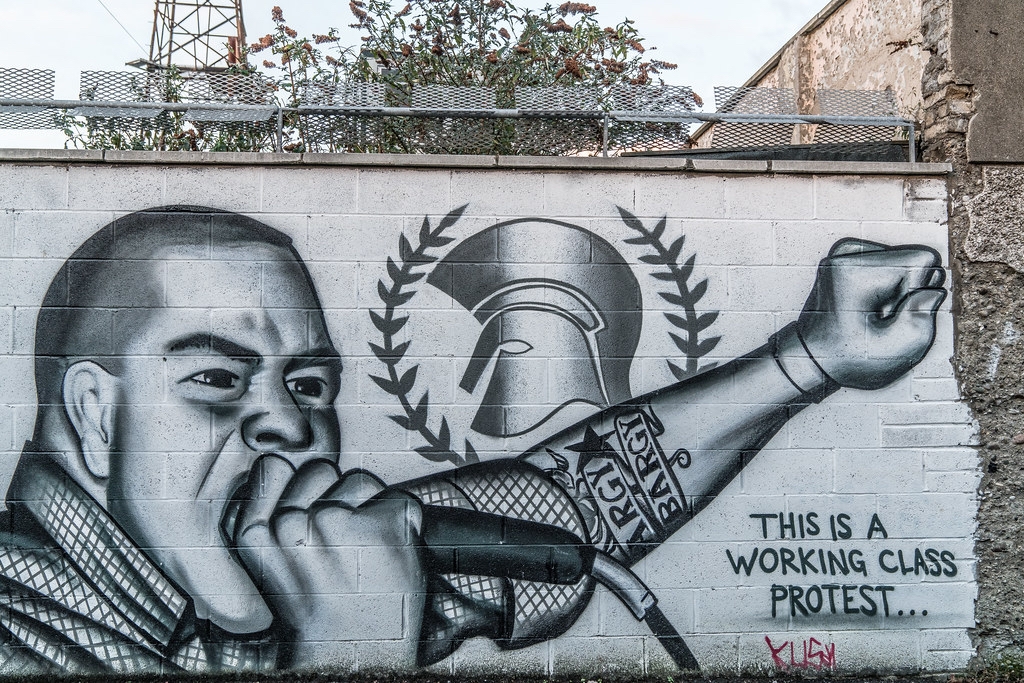 "Football and music are quite similar in that you have this irrational attachment to something for a very long time, and it becomes quite important to you", the  club's Chief Operating Officer Daniel Lambert tells me, via  a video call focusing on the role of music and culture at Bohemians. "Because of our proximity to it, the vast majority of football fans in Ireland follow the Premier League – to be following the League of Ireland is not the norm. So you're already engaging with something that's countercultural to an extent, and to build your numbers you've got to be engaging with people who are really into music or arts or social issues. You can bring in people that have artistic talents or other things that they're passionate about, marry it in with the values of the club, and that creates a more diverse group of people".
"There are things you can do to create a more lasting sense of feeling towards the club", he continues. "To some people, winning is all that matters. But I think a lot more people — and we've found this as the club has grown in recent years and we've really communicated the values — could be disappointed, but still have a great sense of contentment and pride in the club irrespective of the result in a game." 
That sense of pride can be fuelled by the club's grounding in the local area and its advocacy for important causes. Equally, it can relate to the rich musical heritage that continues to shape the Dublin club. In a move that encapsulated this aspect of their identity, Bohemians recently announced a major new partnership with The Record Hub, an Irish online record store and music discovery platform. The project is multi-faceted. The headline measure is that their ground Dalymount Park has become the first in the world to play only vinyl over the stadium PA. Alongside this, the link-up will also birth a new range of specific music genre nights at Dalymount; plus fan giveaways of vinyl releases, the inclusion of the Dublin record store's name on the back of the team's shirt, and a number of commemorative vinyl releases that pay tribute to the ground's rich gig history.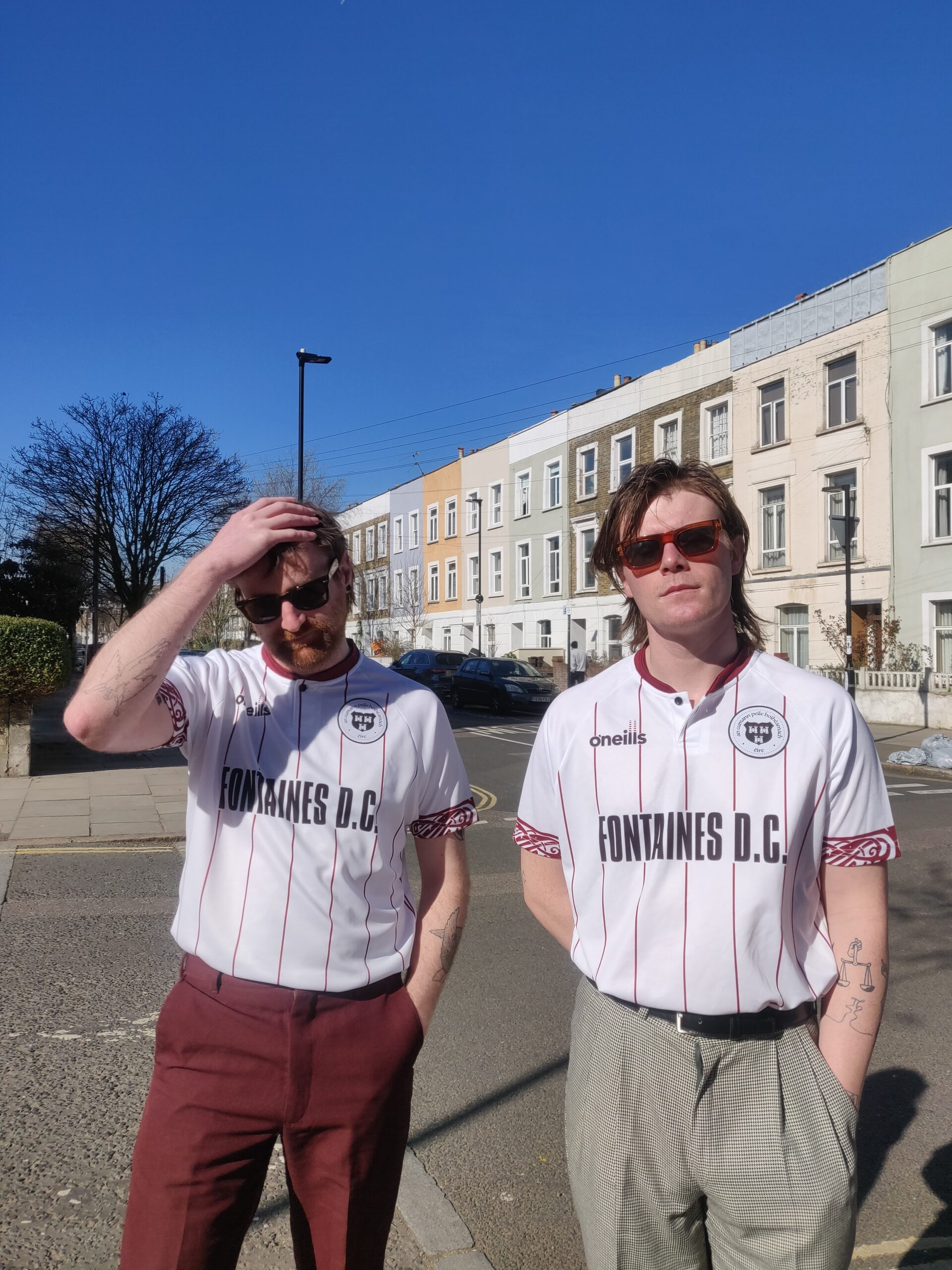 "Normally, you go into a ground and it's just the latest pop tune blaring", explains Lambert. "Richie [O'Connell, the DJ tasked with controlling the new all-vinyl set up] has tried to select records which have connections to the club: in there, you have Lankum, Fontaines DC; you've got the Marley link; you've got a band like Whipping Boy – it allows you to have music that represents the club".
Bohs' desire to engage with the local music scene has led to some "unbelievably special" moments for artists like Whipping Boy's Page, who has been visiting Dalymount since he was a young lad. Two years ago, Lambert approached him suggesting that the line, "We don't need anybody else" – the focal lyric of the band's cult 1995 tune of the same name – be featured on the back of the Bohs jersey. 
"I was just blown away", says Page. "It was a nod to the fact that we're a fan-owned club; that we're not bankrolled by private investors — we don't need nobody else. The first game that we saw the team run out with it on the jersey, for my two sons who are also both supporters, I don't think anything's impressed them more. Nothing I did in music was as impressive as that. It's a source of huge pride for me personally".
Amongst the broader fanbase, Bohemians' deep interest in music and culture has also had a positive impact, adding to an atmosphere that was already considered one of the best in Ireland. The average attendance at Dalymount Park has grown from 2,875 in 2019 to a full-capacity 4,269 today, and there are plans for a major stadium redevelopment in the near future. Page notes how the switch to vinyl, particularly when aligned to a wider cultural vision as it is at Bohs, is "something more clubs in the League of Ireland could look at".
The club's efforts to connect with Dublin's rich musical heritage reflect a broader trend across global football today, as certain clubs attempt to forge more meaningful connections with their supporters that engage their interests outside of sport, far beyond the basic Saturday, 3pm appointment. Clapton's anti-fascist campaigning has connected with fans in East London and across Europe, whilst Lewes' community-oriented Equality FC programme has inspired multiple generations of supporters, by working to dismantle football's gender gap. In North Dublin, Bohs' musical focus is just one aspect of a broader emphasis on representing their community. And while these honest intentions are the root of everything, it would be naive to ignore the fact that unorthodox football clubs also attract plenty of welcome media attention.
"You're up against the mass market of Sky, as a fan-owned football club", says Lambert. "It's hard to break into the football news cycle, but because we're doing stuff that's a little bit different – because of the authenticity of it and the ownership structure – that tends to get coverage, so there's a route for us to reach people".
That expanded reach is evidenced by the growth of the club's membership base in recent seasons, with more and more supporters deciding to pay the €365 annual fee, which grants them joint ownership and a say in the running of the club. On top of that, there have been serious boosts to online sales of shirts and merchandise, as well as the aforementioned increased attendances at Dalymount Park. And those who have been there to watch Bohs in action this season have been treated to the kind of audial display rarely seen at a professional football match.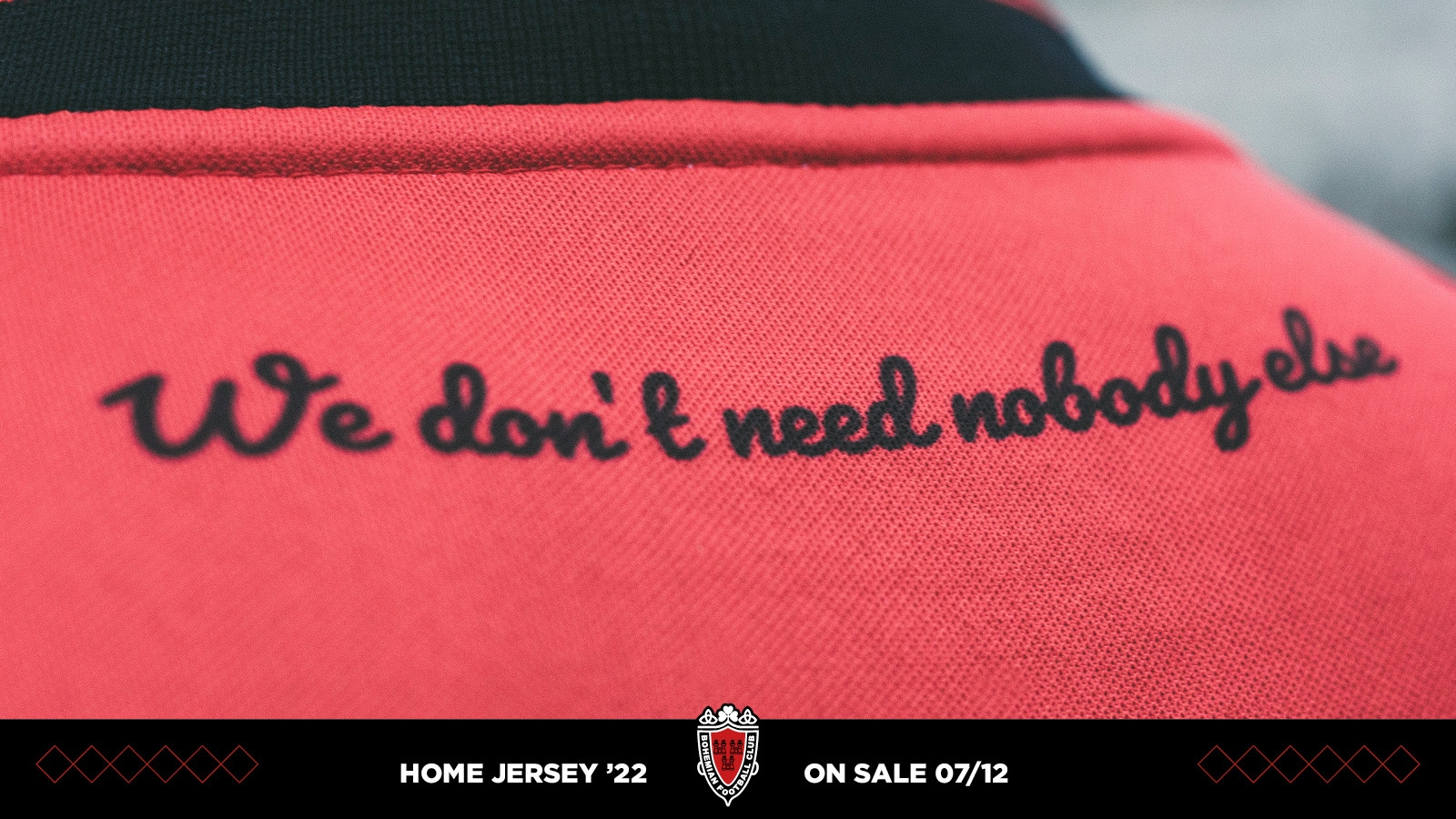 "It's a really great addition", says Page, considering the impact of the club's switch to vinyl. "I've been to a lot of grounds around the League of Ireland and, uniformly, the sound system is usually appalling. But the sound system at Dalymount has always been very good, and the vinyl thing has added another element to it. It adds to the atmosphere and makes the match night a little bit special".
Dalymount Park isn't the biggest stadium, and most Bohs fans would readily admit that parts of it are in a state of disrepair. But, ultimately, that's not what matters. Every weekend, Bohemians' home is buzzing with the fervent chants of diehard fans, lifted by the prestige of a history dating back to 1890, and now filled with the grainy warmth of DJ Richie O'Connell's tailored vinyl selections. Thanks to Bohs' commitment to cultural heritage and their pursuit of new projects rooted in music, people, and community, the heart of the club is healthier than ever before.